Share:
---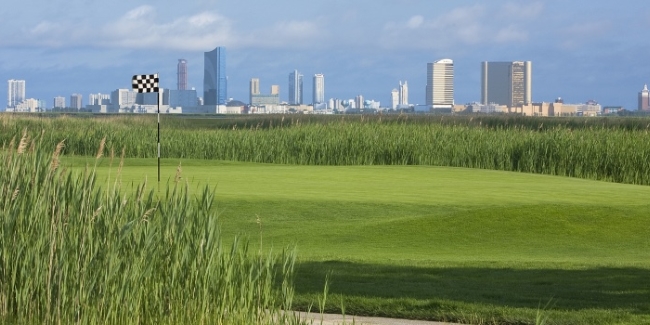 Atlantic City: Time to Play, Time to Pause
Atlantic City affords golfers a cornucopia of fall fun, challenging layouts, famed history and jaw-dropping scenery.
By Patrick McCabe
Golf is a one-shot-at-a-time, stay-in-the-moment endeavor - or at least, it would appear that way on TV. Yet, while focus almost assuredly helps your game, sometimes the recreational golfer benefits more by diverting attention away from the task and soaking up the surroundings instead.

When it comes to surreal surroundings, rest assured - there is no better place than "down the shore" in New Jersey. Indeed, across the wide range of courses that make up the Greater Atlantic City Golf Association, distraction comes in a wide variety: It can be skyline vista; a setting sunset; a blue heron standing guard over a natural wetland; an old fishing boat dry-docked in a waste bunker.

Three of the more iconic vantage points along the Jersey Shore are found at any time of the day along the closing stretch of holes at Atlantic City Country Club, on the green of the par-4 second hole at the Stockton Seaview Resort and Golf Club's Bay Course and - when the sun starts to fall - from one side of the par-5 ninth hole at Twisted Dune Golf Club.

And make no mistake, as vibrant as golf in and around Atlantic City can be during the spring and summer months, it can be just as exhilarating - perhaps more so - in the autumn. Maybe it's the shortening days and the sense of urgency to squeeze in a few more rounds. Maybe it's the turning colors on the leaves. Or maybe it's just the crisp, cool air blowing across still-warm waters that makes the fall a great time to get away and golf.

For those looking for a fun escape at value-laden package prices, here is sampling of the more colorful golfing options awaiting you in the Greater Atlantic City region:


Harbor Pines - Linked to the Future
Developed with homes, nature and golf in mind (125 acres are protected for wildlife), Harbor Pines Golf Club & Estates is the ultimate in land and residential planning.
"We refer to it not as links golf, but 'linked up' golf," said the club's vice president, Mitchell Gurwicz. "Harbor Pines is a resort-style course with wide fairways, trees, well-manicured corridors and not a lot of forced carries. There are 13 ponds, 120 bunkers and the tees are set up to across five sets."
But the real fun of Harbor Pines starts on the greens.
"They are the great equalizer on this course," added Gurwicz. "They average 6,500 square feet. Once you think you have a hole licked, you land on the green and you have to think it all through again. That's what makes it fun. These are not postage stamp greens."
Developed with the upscale, daily fee golfer in mind and designed by Stephen Kay, Harbor Pines still provides a private club experience with a Carolina feel to it.
Ballamor - At Home in the "Pods"
Just a few years removed from its private club upbringing, Ballamor Golf Club is poised to shed its hidden gem designation. A traditional parkland-style course, Ballamor was built into the woods with no houses surrounding golfers on the course. In the fall, this is particularly important as the layout actually reminds some players of Carolina's Pinehurst courses.
With its unique "pod" setup (four different sections characterize the layout), there's a lot of wooden bridgework to be negotiated on the Dan Schlegel (then with Ault, Clark & Associates) design.
"Ballamor is very nice," said one recent golfer soon after his inaugural round on the course. "I'll definitely be back."
On your way into the region, golfers should also make time for a round at Scotland Run, Ballamor's sister course located in Williamstown. Of note, both likeable layouts rank among Golfweek's Top 10 Best Courses You Can Play in New Jersey.
Blue Heron Pines - The Golfer's Sanctuary
Not one but two replica holes from famed Pine Valley, the New Jersey icon consistently ranked among the world's best, can be found at Blue Heron Pines Golf Club. Architect Stephen Kay patterned Blue Heron's No. 14 off Pine Valley's seventh and he similarly replicated a PV hole on his No. 10 offering.
Opened in 1993, Blue Heron Pines' mature layout is tree-lined, sports some nice water holes and has its share of strategically placed bunkers. The back nine is considered the more challenging of the two, though it is also the more secluded and makes for an extremely pleasant and peaceful conclusion to a round of golf.
Kay also planned Blue Heron as a good walker's course - more like a private club experience. Hole No. 14 is popular, with almost 100 yards of waste area lining the par 5 from 280 yards out. This one-acre sand hazard is a highlight to a four secluded-hole string beginning on No. 13 all the way to No. 16. According to Kay, A.W. Tillinghast was the inspiration for the sand hazard, having called one a "great hazard."
A certified Audubon Cooperative Sanctuary, Blue Heron is currently celebrating its first year under the ownership of Ron Jaworski, famed Philadelphia Eagles quarterback now NFL analyst for ESPN. Nicknamed "Jaws," his roots in golf course ownership and management also run deep and include another Atlantic City offering in Running Deer Golf Club.
Hamilton Trails - Happily Rolling Along
As a nine-hole course normally played in less than two hours, Hamilton Trails Golf Club may not have all the bells and whistles of others in the Greater Atlantic City region, but that doesn't mean it is short on challenge. It is certainly light on the wallet with nine-hole rates ranging from $14 to $18 the remainder of the year.
Coupled with one of the best practice ranges in the area, Hamilton Trails is an ideal venue for novice golfers or players interested in a quick round. Routed across a former blueberry farm, the track is sporty and fun. It is also heavily tree-lined, producing an especially colorful challenge as the season begins to wind down.
"There are a lot of unique holes out here," said owner and operator Andrew Bucceri, who also serves as the course superintendent. "It is pretty flat, so the locals like to walk. The highest point is on hole No. 4."
As the only regulation length nine-hole course in South Jersey (it is also centrally located in Mays Landing), Hamilton Trails can also serve as a nice add-on to any one of several nearby 18-hole courses. Together, they would make for a varied and fun-filled 27-hole day of golf - and ideal for any autumn getaway.
Learn more about all 20 Atlantic City courses and book your fall golf excursion at www.PlayACGolf.com.
Revised: 09/03/2013 - Article Viewed 20,368 Times
Share Comment
Written By: Patrick McCabe

Pat McCabe, a former University of Wisconsin - Milwaukee basketball shooting guard, can pop a three pointer from beyond the arc and sink birdie putts from the fringe.

Pat is a regular golf contributor to GolfWisconsin.com, ChicagoGolf.com and IndianaGolf.com.